'Kelpie', our 35ft 4-berth self-drive holiday boat, is available all year round for your special time out on the river and is ideal for young families or two couples who want a 'back-to-basics' budget boating adventure.
Tie up on a pretty river bank to enjoy your own alfresco picnic, cook for yourself on-board, or head for one of our riverside pubs for a leisurely meal. Whether you have a 2-day or 1-week break, you will feel exhilarated, refreshed and relaxed at the end.
The boat features a fixed double bed, 2x 5ft long kid's singles which can be converted to a king-size double bed, shower/toilet/washbasin, solid fuel stove to keep you cosy plus full cooking and dining facilities. And at only 35ft long she is easy to handle and will turn (almost) anywhere.
Bedding and 'Rosie & Jim' for illustration only
More photos on our Gallery page
We aim to give you a waterways experience. Most of the hire fleets are ultra-modern, and charge you accordingly. We believe that one goes out on a boat to get away from it all, not take it with you. The boat therefore has NO tv, WiFi, microwave, hair drier or anywhere to plug them in. Our only concession is one cigar lighter/car accessory socket to recharge your phones or tablets and this is reflected in our budget-conscious pricing.
Also to keep costs down for you, we do not supply bedding or towels. We do, however, supply all the cups, glasses, crockery, cutlery, cooking utensils etc. you will need plus a starter quantity of tea, coffee and sugar.
Lifejackets are available free of charge on request, we have a wide range from toddler to adult.
So now there is no excuse not to get away from the bustle of modern-day living.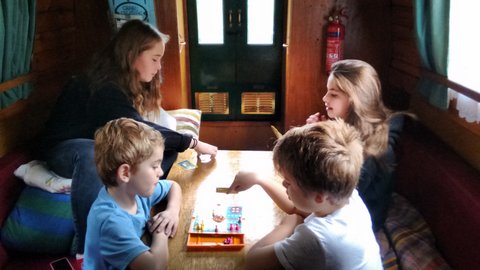 ---
SPRING/SUMMER/AUTUMN PRICING 2019
2019 prices
Start Month of Hire
 
March
April
May/Jun
July/Aug
Sep
Oct
Short Break 1
£450
£550
£650
£700
£650
£550
Short Break 2
£350
£400
£475
£575
£475
£400

1 Week

£650
£750
£825
£900
£825
£750

Prices include VAT, diesel, gas and coal for the fire. No hidden extras!
Well-behaved doggies welcome - £20 extra charge
Holiday times are:
Short Break 1: Friday 12 noon until Monday 4pm
Short Break 2: Tuesday 12 noon until Thursday 4pm
1 Week: either Friday 12 noon until Thursday 4pm or Tuesday 12 noon until Monday 4pm
Where a booking crosses charging periods, the price at the start date of your holiday applies.
---
Car Parking: We have space in our yard (locked at night) for one car at no extra charge. You must leave your keys with us should we need to move it. Alternatively, there are no parking restrictions in Old Parvis Road.
Booking: Please telephone or visit in person to make your booking. A deposit payment of £150.00 secures your booking with the balance payable on the day. Payment may be by cash or debit card. An additional £150 cash security deposit (this is not an insurance waiver) against safe return of the boat and inventory or third party damage is required. Assuming all is good at the end of the hire, this will be returned.
Novice or expert? On your arrival, we will give you a comprehensive introduction to the boat and general safety procedures. This is then followed by hands-on tuition with escort and instruction to and through the first lock.
Hirers should click on the links below for our full Terms and Conditions, and for further information about boating and our boat. Although we will go through these on the day, reading through them before hand would be an advantage.
The files are in .pdf format and require an appropriate reader. If you do not have one, Adobe Reader is available from get.adobe.com/uk/reader free of charge. Some 'built-in' readers within web browsers do not display these correctly. If so, <right click> on the link then save the document for off-line reading.
  Terms and Conditions of Hire for Holiday Boats
  Operating Kelpie's engine and appliances
Another useful document is: The National Trust Guide for Boaters
See our Contact/Map page for location maps and the National Trust map of the Navigation.
Kelpie: A mythological Scottish Water Horse.
For those who know about them or choose to research them, don't worry - we have the bridle . . .